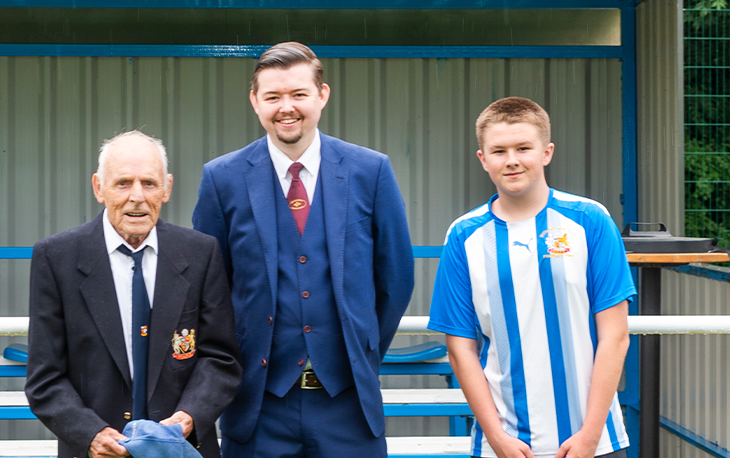 A local Funeral Directors are the proud new sponsors of a football club's main stand which bears the name of their legendary President.
Arthur Gresty Funeral Homes, which has branches in Wythenshawe, Altrincham and Northenden, are supporting Wythenshawe Football Club and will sponsor The John Walker Stand at their Hollyhedge Park home for the next two seasons.
The main stand has been named after Mr Walker since 2020 as a special tribute to his seven decades of commitment to the club where he has held almost every position available.
Dan Preston, Funeral Arranger and Conductor at the Wythenshawe branch of Arthur Gresty Funeral Homes in Woodhouse Lane said: "We've had a great relationship with the club for a long time, but I am really pleased we have been able to take this important next step.
"The ground is less than a mile from our funeral home, so they're a natural partner for us to work with.
"The Ammies do such great things in our community by getting young boys and girls into football as well as running their senior teams. We are delighted to be continuing our association with them.
"John is a Wythenshawe stalwart. Nobody is more deserving of having a stand named after him at Hollyhedge Park."
The Ammies first team are heading into their first-ever campaign in the North West Counties Premier Division, with the women's first team set for their debut season as a semi-professional side.
Club Vice Chairman Carl Barratt said: "I'd like to thank everyone at Arthur Gresty for their generous support which will allow us to continue to have John's name on the main stand.
"It means a lot to everyone at the club because he has done so much good over the years.
"The word legend is used a lot, but he genuinely is one."
For more information about Arthur Gresty Funeral Homes and their services visit agresty.co.uk.